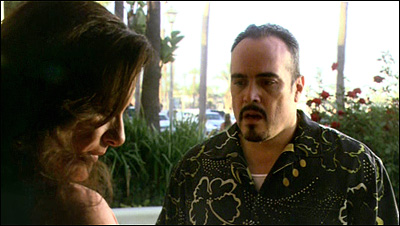 Q. What is it supposed to be on the show?
Q. Where is it supposed to be on the show?
Q. When did we see it on the show?
A. In Episode 4 (of Season 2), "See-Through".

Divers have discovered the sunken remains
of Dexter's dismembered victims, and the police department has launched an investigation into the new "Bay Harbor Butcher".

Looking for similarities among the victims, they find that virtually all of victims have felony records - all linked to murder.

Except for one: a dead man named Oscar Sota, who appears to be a respected member of the community.

Angel volunteers to look into the man's past.

But when Angel talks to his widow, hoping to find out if he had a dark side, Mrs. Sota refuses to cooperate, insisting that there's nothing to tell. When he pushes his interrogation, she walks out of the interview.

Later, in this scene, Angel goes to the widow's home and apologizes for being rude and for "disgracing the memory of your husband".

This new approach works. The woman softens. As Angel is about to leave, she stops him and confesses to Angel that her husband kept guns, hidden in the walls. She leads Angel inside to show him.
Q. What is it actually in real life?
A. A residential home - but not in Miami.

Q. Where can I find it in real life?
A. Very little of the house is shown in the scene - mostly just the door (with a distinctive glass window), a low white wall out front, and rose bushes. In the background, you can make out palm trees and a street lamp.

This scene was shot near Naples Island, right on the Alamitos Bay in Long Beach, very near the locations where they filmed Lila's stealing spree and Doakes shooting the man on the bridge.

In fact, you'll find the house on the very same street as Lila's scene (Bay Shore Ave), but about 1,000 feet to the southwest.

The home's address is 221 Bay Shore Ave, in Long Beach, CA, just north of the 2nd Street bridge (from Naples to Belmont Shore).


Here is an aerial photo of the house. And here is a map link.




I shot the photos below in 2009.

[ Warning: This is a private home. Do not knock on their door, trespass on their property,
or do anything else that might disturb the residents. ]




The blow-up below (enhanced & lightened by PhotoShop) reveals the
distinctive glass window in the front door - as seen on the show.









By Episode - By Category - By Geographical Location - Clickable Map of All Dexter Locations- Go To Main Menu

The Dexter screenshots from the show and all related characters & elements are trademarks of and © Showtime.
All other photos & text are Copyright © 1999-2021-Gary Wayne and may not be used without written permission.





Return to Seeing-Stars.com
Looking for something in particular? Search the Seeing-Stars website!