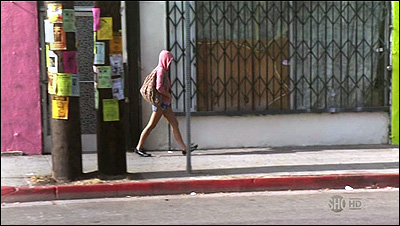 Q. What is it supposed to be on the show?
Q. Where is it supposed to be on the show?
Q. When did we see it on the show?
A. In Episode 5, of Season Four, "Dirty Harry".

Nikki Wald is half of the pair of "Vacation Murderers" sought by police.

After she escapes from the police at her apartment house, Angel baits her with a planted newspaper story about her partner, Johnny Rose, having a sexually transmitted disease.

In this scene, we see Nikki walk around a corner (following what might have been a drug deal), past a strip mall, where she spots the headline on a newspaper in a vending machine.

The headline reads: "Vacation Murderer Listed in STD Database", with a sub-headline reading:
"Police add Nikki Wald and Johnny Rose to list of prime suspects."

It works. Police later find the body of her lover, Johnny Rose, whom she has shot to death.

Later, Nikki is found stoned and mumbling in an alley, where police capture her.

Q. What is it actually in real life?
A. A strip mall on a street corner - far from Miami.
Q. Where can I find it in real life?
A. This scene was shot in front of the same plain, little strip mall that the show has used several times in the past.

It was used as the exterior of "The Swamp" bar in Season 2, and as the tailor shop where Dexter picks up his wedding tuxedo in Season 3.

You'll find it at 6000 Fountain Ave, in Hollywood, CA, conveniently right across the street from (south of) the Sunset-Gower studio, where they film "Dexter".

That's on the south side of Fountain, just west of Gordon Street.

This time around, they painted the white building in bright stripes of Miami pink and neon green, and added the news racks, of course.




I shot the photo below in 2009.


Here is an aerial photo of the strip mall. And here is a map link.





Q. How the heck did you figure out where it was?
A. This was an easy one for me. Having identified this same strip mall two times before (for the "Swamp" bar and the tailor shop), and having traveled to the spot to shoot photos, I simply recognized it this time when I saw it again.






By Episode - By Category - By Geographical Location - Clickable Map of All Dexter Locations - Go To Main Menu

The Dexter screenshots from the show and all related characters & elements are trademarks of and © Showtime.
All other photos & text are Copyright © 1999-2021-Gary Wayne and may not be used without written permission.





Return to Seeing-Stars.com
Looking for something in particular? Search the Seeing-Stars website!