Seeing Stars: The Studio Tours



5555 Melrose Ave.
Hollywood, CA. / (323) 956-5575
Advance Reservations: (323) 956-1777



It had been almost a decade since I last took the Paramount Studio tour.

I took the tour again recently, because I had been told that it had improved since my last visit.

The result? Yes, it is improved.

They addressed all of my earlier complaints about the tour guides:

I had complained that it was sometimes hard to hear them speak, so they now pass out individual headphones that allow guests to easily hear the guide under all conditions.


I had noted that it was strictly a walking tour, and that all that walking could be a bit tiring for some members of the group. So now they shuttle guests around in golf carts that hold about six people each - making for small, intimate tour groups, and making it easy for the less hardy to easily traverse the lot.


I had also complained that the tour guides' training seemed lacking, when it came to knowing the history of the studio. But if the guide on my latest tour was typical, they have solved that problem as well. Our guide, Travis, seemed well-versed on both the history and current activities of the studio, as well as being personable & professional. He couldn't have done a much better job, given the natural limitations of the tour. They have also outfitted the guides with iPads, which allow them to show guests photos and short videos illustrating the subjects under discussion.

And unless I'm imagining it, the studio lot itself (or at least its southern edge, around the Paseo) seems to look better, more gentrified, than on my previous trips - almost resembling a college campus in spots.

All in all, those are some nice improvements, and make for a much better tour than what I experienced in my earlier visits to the studio.

However, what they couldn't fix are the problems inherent to the Paramount lot itself.

Don't get me wrong, Paramount Studios is one of the most historic studio lots in town (and in fact, the only major studio still officially inside the Hollywood borders). They made the very first movie to win an Academy Award ("Wings"), and on this lot they have shot such classics as "The Godfather", "Forrest Gump", "Titanic", "Raiders of the Lost Ark", "Going My Way", "Sunset Blvd", "Breakfast at Tiffany's", "King Kong", "Braveheart", "Grease" and the "Star Trek" series, to name just a few.

But what it lacks is a traditional big back lot, full of permanent standing outdoor sets. This was a staple of the major studios back in the Golden Age, filled with faux residential neighborhoods, jungles, mock railroads, Western towns, and Paris streets. These big back lots were always the most colorful and interesting aspects of any movie studio, at least from the standpoint of a visitor. MGM had a huge back lot, before they tore it down in the '70s. Warner Bros. still has theirs. As does Universal, of course.

However, Paramount studio long ago tore down their old Western town, and now they only have a single large outdoor set: their New York City Streets set.

And while that's a great set (one you see appear often in both movies and TV), the vast majority of the lot (and of the tour) is made up of sound stages - which are basically just large, empty warehouses that afford interior space where they can create temporary sets for filming. And sound stages usually don't make for exciting tours.
To the average tour guest, all sound stages look more or less the same: distinguished only by the large numbers painted on their sides. When they're in use, they are usually off-limits to tours. When they are not in use, they are usually empty or filled with folded flats and lighting equipment. So the guides are mostly limited to driving past these faceless barns, and telling us the history of each one, with tour guests catching an occasional glimpse of their dark, mostly empty interiors through the occasional open door.

( I noticed that they have added plaques to the outside of each sound stage, listing the notable movies & TV shows made inside. That's great, except that the tour tram usually doesn't get close enough, or stop long enough for guests to read them. )

Paramount can't help that the studio lacks a big back lot (modern filming no longer really requires those kind of large standing sets). But what they could do, and do not, is to offer tour guests a better glimpse of movie-making magic.

I realize that they can't, in practical terms, let the guests watch while movies are being made. But they could (and should) show us more of the behind-the-scenes process. Guests need to see things like the costume department, the prop houses, the recording studios, the dressing rooms, the mini-factories where they build the sets - and it sure wouldn't hurt to show guests at least one movie camera somewhere along the tour.

In short, they keep guests on the outside far too often, looking at exterior walls passing by, and listening to the guide's spiel. Granted, the general buzz of the studio (its streets cluttered with white production trailers, and buzzing with the bikes and golf carts used to get around the lot) can be interesting in its own right, but a little of that goes a long way.

During my most recent tour, we only went inside twice: once to step into a tiny, empty, corner space in the New York set (that was once used for filming a scene from "Breakfast at Tiffany's"), and a second time to visit the empty set of "The Doctors" (a daytime TV talk show that I honestly never heard of).

Still, the tour is indeed better than it used to be, and I have to give them high marks for making an effort. And it remains superior to the Sony studio tour, which is just downright boring. However, it still doesn't measure up to the Warner Bros. tour, with its huge back lot and more comprehensive tour.

But there are legitimate reasons why someone might opt for the Paramount tour.

It costs a little less (currently $48, compared to Warners' $52),
it is located in the heart of Hollywood, rather than over the hill in the Valley, and each studio offers a different slice of film-making history. So if you are attracted to the Paramount story in particular, of if you simply want to tour a movie studio and are in the neighborhood, this is certainly a good enough experience (even if its not the very best).

As the photo on the left shows, Paramount is the only major studio where you have a view of the Hollywood Sign from inside the lot.

OK, let's get into the details of what you'll see:

The Paramount tour takes a full two hours, and barely scratches the surface of the numerous buildings and sound stages that make up the 65-acre studio.

After making a reservation (you can buy the tickets online), you park in a lot across Melrose Avenue, and walk back past that new double-arch gate (made to resemble their original Bronson gate), where you check in at a small building, give them your name, show your ID, and wait for your tour guide to show up.

When he does, your first stop will be the Paramount gift shop, where they will give you some time to wander around the small store (where they no doubt hope you will spend your money on one of their t-shirts or coffee mugs, all bearing the familiar Paramount mountain logo). You can also get a cup of coffee here, and relax for a moment under an umbrella at a patio table just outside.
In a few minutes, your tour guide will round you up, distribute the headsets (they clip to your belt, and an earpiece fits over your ear), and you'll get aboard the small trams (more or less golf cars). These cars only hold six people, including the guide. The carts' small size make it easy for them to scoot around the active studio lot, and to squeeze between barriers.
They will then head east along the south edge of the studio lot, along the Paseo, the tiled walkway that runs parallel to Melrose, inside the studio. On the right (south) edge of this broad walkway is a small strip of lawn, called Marathon Park, that is often also used for filming (due to its convenient location and relatively low cost), and the guide will tell you about a few of those productions.

Then it is on to the iconic Bronson gate (the one featured in "Sunset Blvd", "The Artist", and many other films), where you'll be given the chance to pose for photos near that famous arch. (It is indeed a very photogenic spot.)

Right next door is the relatively new Paramount Theatre, a state-of-the-art cinema which is used for screenings and to host the occasional premiere (our guide mentioned premieres of the Justin Bieber and Katy Perry movies here).

You'll get to go inside the theatre, check out the interior, and sit in the airline-designed seats, while your guide tells you the history of Paramount, dating back to DeMille's filming of "The Squaw Man" in that famous barn.
This brief history lecture (visually aided by the guide's iPad) seems to replace the short film about Paramount that used to be shown to tour guests before the start of the tour. That's a mixed blessing, since its hard for a single person, no matter how talented, to compete with a professionally-made documentary film featuring the highlights of the studio's 100-year history.

Back outside on the Paseo, you'll be shown the original bench from "Forrest Gump", and regaled with stories about how Tom Hanks showed up one day to sit on the bench and pass out chocolates to passersby.

Then it's back on the tram, and through the Bronson gate into the actual working studio.

From here on in, the tours are somewhat played by ear.

They will always touch on a few keystones (such as the blue-sky tank and Lucy Park), but since it is a busy, working studio, it's a fluid environment and the guides have to adapt to changing circumstances. A set inside a sound stage that might be open to visitors one day, may well be closed (or gone) the next.
As an example, on my visit, the guide ran into an unexpected problem. While taking us to see the New York set (usually the highlight of the tour), he found his way blocked by a giant white tent, erected for some special event (you can rent the New York set for just such events, if you have the $10,000 a day it costs). As a result, we ended up having to take a roundabout route and ended up seeing only a small section of the large New York set (portions of which mimic several East Coast cities).

To be specific, we wound up in the Boston/Chicago section, where we finally stopped the tram (for the first time, inside the gate).

We got out and were allowed to step inside the empty shell of a small storefront that our guide told us was used as the interior for Alex's boutique, called "Xela" on the TV sitcom "Happy Endings". Since I never watched the show, that didn't mean much to me.

But right next door was another storefront used on the same sitcom, a corner space which is used as the characters' breakfast hangout, and, fortunately, it has a deeper history.

We were shown clips (via the guide's iPad) of a scene shot there from "Breakfast at Tiffany's".

We were also shown a very small alleyway just outside with fake bricks, and with fake sewers that could be rigged to emit steam, to add to that east coast ambiance.

Back on the tram, the roadblocks prevented us from seeing much more of the New York set, so it was back to driving past more faceless sound stages. Eventually, we stopped outside of one of them, our guide went inside, and then led us in. We were shown the current set of a daytime talk show called "The Doctors" (which, frankly, I never even heard of).
Along the way, there was a lot of talk of the current TV shows filming on the lot: "NCIS", "Glee" "Happy Endings" and "Rizzoli & Isles". There are also a lot of Nickelodeon kid shows filming at the studio, with names like "Big Time Rush" and "Marvin Marvin", which didn't ring a bell with most of the adults on this tour.

Tourists always hope to see a celebrity on a tour like this, but that is always a longshot chance.

The closest we came was seeing someone driving Dr. Phil's souped-up golf cart across the lot.

We also saw a number of little kids spill out of a bus, and were told they were the cast of an upcoming Nickelodeon show called "Haunted Hathaways". But since the show hasn't aired yet, that didn't mean much.

Likewise, our guide later pointed out a tween girl in a colorful dress, and identified her as Ryan Newman, an up-&-coming star (according to our guide) appearing with Tony Danza on his latest sitcom, "See Dad Run".

But, as expected, the better-known stars of "NCIS", "Glee" or even "Happy Endings" were nowhere in sight.
(To be fair, however, I should mention that on my very first tour of Paramount, long ago, we did see the cast of "Star Trek: Voyager", taking a break outside their sound stage - so that sort of thing is certainly possible. It's just a matter of what shows are filming on the lot at the time, and when your tram happens to drive by.)
Finally, we headed to the southwest corner of the Paramount lot, which used to be RKO Studios, and later DesiLu (before Paramount absorbed it).

Our guide showed us Lucy Park (and an adjacent childcare center built by Lucille Ball for her employees).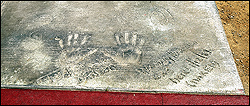 He pointed out, near the curb, the handprints of "Cheers" stars Ted Danson and Woody Harrelson. Woody had written the word "naked" after his name, and our guide told us a (possibly apocryphal) story of how the two stars had gotten drunk on "Cheers" beer, lost a bet, and were forced to strip naked and streak around the entire studio lot. According to the story, on their way back, they spotted some wet cement and stopped, naked, to leave their prints here.

(Personally, I think it's more likely that Woody just has an odd sense of humor... But it's a good story.)
We took a look at (the exterior) of Stage 21, where RKO filmed the original "King Kong", and then it was back to the studio cafe (seen on "Glee" as "Breadsticks"), where we disembarked and dispersed (after more encouragement to spend money in the studio gift shop).

The bottom line? The studio tour is better than it used to be, and well worth the time, when you're in Hollywood. But it could still be better. And the historic Paramount lot, while it has a lot to offer, isn't the ideal movie studio for a tour.


Parking: Parking is available across the street from the famous Bronson gate, in a paid lot at the corner of Bronson & Melrose. (The cost for parking was a flat $10.00 on my last visit.)
Admission Price: $53 for the two-hour guided tour. (No one under age 10 is allowed on the tour.)
Advance reservations are required (at 323-956-1777, or online at www.paramountstudiotour.com).

(They also offer a special 4 1/2 hour VIP tour, once per week – on weekday mornings at 9:30 AM, and weekday afternoons at 1 PM. The cost is $178, and reservations are necessary .)

[ Prices are current as of December 2014.]

You enter through the new double-arch Paramount gate on Melrose, just west of the older Bronson gate. There is a pedestrian walkway on the right (east) side of this entrance. Stop at the booth there.
Hours: Guided tours of the studio are given every day (except some holidays), every half hour from 9:30 AM to 2 PM. (Weekend schedule may vary.) The tours last two hours.


Getting there: From Hollywood & Highand, go south on Highland just over a mile to Melrose Ave, turn left, then go east on Melrose (one mile) the studio, which will be on your left (north) side. Park in the lot to your right. / From the Hollywood Freeway, just take the Melrose Ave exit, turn left, and go just over one mile west. The studio will be on your right (north) side. Park in the lot on your left.
[For more information on this subject, you can access
Paramount's official website at: http://www.paramount.com.]

Click here to browse books about Paramount Studios
Looking for something in particular? Search the Seeing-Stars website!