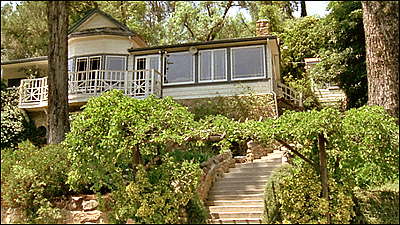 The location: The Lake Arrowhead Cabin.




Q. What is it supposed to be on the show?




Q. Where is it supposed to be on the show?
A. In Lake Arrowhead, California.


Q. When did we see it on the show?
A. In Episode 2 (of Season Three), "The Shape of Things to Come", and again in Episode 3 (of Season Three), "The End of Innocence".

While Kirsten is at rehab, she becomes friends with another recovering alcoholic, a woman named Charlotte (played by Jeri Ryan).

She doesn't know that Charlotte is actually a con artist who checked into the exclusive rehab clinic in order to meet and rip-off wealthy women.

After they leave rehab, Charlotte talks Kirsten into spending time up at "her father's cabin" in Lake Arrowhead (as a sort of halfway house), rather than returning home to Newport Beach.

She plays on Kirsten's sympathies to the point where Kirsten is afraid that her new friend will go back to drinking if she leaves the cabin. Concerned, Sandy drops by the cabin to see what's going on, and meets Charlotte.

(Later, Charlotte lures Julie into her scam, letting her stay in her beach condo when Julie is temporarily homeless. But her plan eventually falls flat when Julie refuses to betray Kirsten.)


Q. What is it actually in real life?
A. A private home - but not in Lake Arrowhead.


Q. Where can I find it in real life?
A. The home is located in the community of Lake Sherwood, at 410 Lake Sherwood Drive, in Westlake Village, CA.

That is not a part of Lake Arrowhead. Lake Sherwood is actually a two hour/120-mile drive west of Lake Arrowhead, in the Valley, on the other side of the mountains from Malibu. (Although the address says "Sherwood Drive", the house actually appears to face the lake and a cul de sac called David Lane.)

That's about seven miles west/northwest of Summer's house in Agoura Hills.

Although it is referred to as a "cabin" on the show, in real life this 3,600 square foot home has ten rooms and was listed for sale (in 2008) at a price of 5 1/2 million dollars.

See this aerial photo to get a better idea of the location. And here is a map link.

[Warning: This is a private home. Do not trespass on their property, knock on their door,
or do anything else that might disturb the residents.]




[ If it looks familiar, this same home was seen in the original "American Pie" movie, where it was the party house where the guy's lost their virginity after the prom. ]



Q. How the heck did you figure out where it was?
A. I didn't. A fan named Eric tipped me.

I had managed to freeze-frame a road shot from the show which revealed a street sign that read "Sherwood Drive", but since I assumed at the time that the cabin was actually in Lake Arrowhead, and since there is a Sherwood Drive in Lake Arrowhead, I wasted my time trying to find it there, with no success.

Fortunately, in early 2008, Eric sent me this link to a real estate listing from Sotheby's Realty, which had listed the home for sale. I took a look, and there it was: the same house. I double-checked, of course matching this photo from a real estate site with the screencaps, and it was a perfect match. ( Thanks, Eric! :)
By Episode - By Category - By Geographical Location - Clickable Map - Aerials

THE O.C. screenshots from the show and all related characters & elements are trademarks of and © Warner Bros. Entertainment Inc.
All other photos & text are Copyright © 1999-2021-Gary Wayne and may not be used without written permission.
The (center) photo of the Atwood house is © James Hinkle.





Return to Seeing-Stars.com