The Southern California locations where Agents of S.H.I.E.L.D. is filmed.




Episode 10, of Season 2 ("...What They Become")

Virtually the entire episode takes place at this one location, a hidden Hydra base
inside "Theater Ponce de Leon", an old abandoned theatre in San Juan, Puerto Rico.

Turns out the theatre was built right over the lost Kree city that both
S.H.I.E.L.D. and Hydra are trying to reach. And inside it, Hydra is
busy laser-drilling a shaft that leads down to the alien city.




Skye knows none of this when traitor Grant Ward brings her into the Spanish-style building
and introduces her to her long-lost father. He turns out to be an evil eccentric who has spent
decades searching for Skye and hoping to wreak vengeance against Hydra leader
Daniel Whitehall, who brutally murdered his wife (and Skye's mother).




But Whitehall and Hydra have another agenda: to discover Skye's secrets, while
Raina has her own: using the alien obelisk to transform both herself & Skye
into something beyond what they are now...




Whitehall forces Skye to pick up the obelisk - and she doesn't turn to stone.

Her father, Cal, goes to kill Whitehall. But when Whitehall attempts to
shoot Cal, Coulson kills Whitehall. This enrages Skye's father, who
soon attacks Coulson for depriving him of his vengeance.




As S.H.I.E.L.D. raids the place, Skye escapes from Ward
(after shooting him) and rescues Coulson.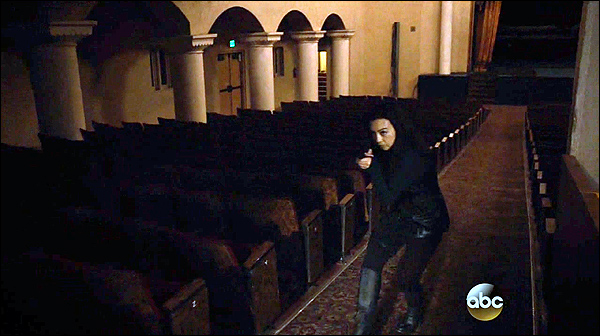 But in an attempt to stop the obelisk from causing havoc, Skye winds up in the
same room with that artifact and Raina, who triggers the obelisk, which in turn
transforms both of them into something new...

Skye becomes 'Quake'.




As you might suspect, this wasn't really filmed in Puerto Rico.

This was shot inside the Variety Arts Theatre,
at 940 S. Figueroa Street, in downtown Los Angeles.

The Variety Arts has been declared a historical-cultural monument.

Built in 1924, and originally called simply "The Playhouse", it was a legitimate
theatre and clubhouse. Will Rogers presided over the first show there, and it's
reportedly where Clark Gable made his acting debut as a young man.

The scenes where Skye and Ward enter the theatre were shot in the lobby: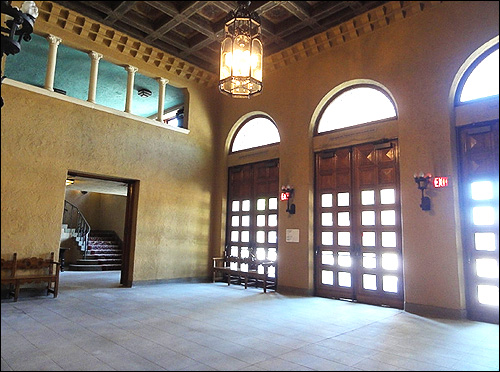 The shots of Skye meeting her father (in the room with the fireplace)
were shot upstairs, on the building's second level:





And the shot of May stalking through the theatre
was shot inside the main theatre:





The Variety Arts is on the east side of Figueroa, between 9th and Olympic,
just a block northeast of L.A. Live and the Nokia Theatre, a part of
town that has been particularly popular with this show.

It's located right across from the Figueroa Hotel, where they
filmed the Episode 3 scenes set in Marrakesh, Morocco.


Here is a Google StreetView of the theatre:








The photos on this page are stills from "Agents of S.H.I.E.L.D."
(which you can buy here) and are copyright ABC/Disney/Marvel.
The rest of the page is copyright Gary J. Wayne - 2016 / Seeing-Stars.com