Episode 1, of Season 2 ("Shadows")


The episode opens with a flashback to 1945, the last year of World War II,
as we see Nazis in an Austrian bunker. They are loading trucks,
apparently evacuating as Allied forces close in on them.

A Nazi officer, Reinhardt, assures a lower-ranking Nazi that the Red Skull is dead,
but that his vision will live on in Hydra. (There are Hydra symbols everywhere.)

We hear them discussing an extraterrestrial object that they refer to as "The Obelisk",
a small, silver bar, which appears to have turned several Nazis into stone. Reinhardt
says that the Red Skull thought it might "hold the answer to death itself".

Just then, the Nazi base is raided by Sgt. Fury's Howling Commandos, led
by Agent Carter. She confiscates "The Obelisk" and tells Reinhardt
that the items will be hidden out of sight, indefinitely.

She tells corporal Dum Dum Dugan that this was the last Hydra base,
and that they are finally beaten. She says that the items are dangerous,
and that they need an organization to keep them hidden away,
and to keep people like Stark from "toying with them".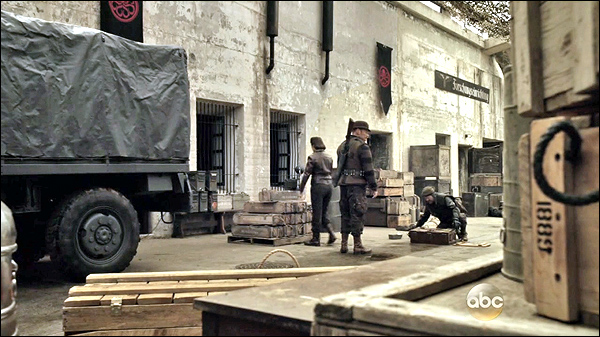 This is supposed to be Austria, but of course, it's not...

These WW2 flashback scenes were filmed at the old former Army barracks of
Fort MacArthur, which is now part of Angels Gate Park, atop a hill at
3601 S. Gaffey Street, in San Pedro, California.

The wooden barracks sit just north of the Korean Friendship Bell, and
now house the Angels Gate Cultural Center and its artist galleries.

Here is a photo of those barracks today:



San Pedro is the southernmost part of Los Angeles, located at the Port of Los Angeles harbor.



During the war, Fort MacArthur helped protect the harbor from the threat of invasion from sea.

It was an active Army post from 1914 to 1974. Now part of a park, visitors can see the
former big gun emplacements, bunkers, tunnels, etc.

There is also a small Fort MacArthur Military Museum there, telling the history
of the former Fort. These Nazi scenes, were filmed there, down in the concrete bunker
known as Battery Osgood-Farley, which lies just south of the Cultural Center/barracks:




The producers simply added the Hydra symbols, plus a few signs
written in German, and they were good to go.


(You can read more about Fort MacArthur here.)