Episode 2, of Season 2 ("Heavy is the Head")

S.H.I.E.L.D. agent Melinda May is in hot pursuit of 'Crusher' Creel,
otherwise known as 'The Absorbing Man', on a public highway.
Creel is driving a pickup truck, May is astride a Harley-Davidson motorcycle
As she follows him, she is in contact with S.H.I.E.L.D. director Coulson.


She is eager to catch Creel, but as she closes in on him, gun drawn,
Coulson tells her to back off. (And considering that Creel is almost
indestructible, that sounds like a good idea.)

Coulson tells her that Creel isn't working alone, and he wants
to know who Creel answers to.

May almost takes the shot anyway, but when Coulson orders her
to drop back to surveillance mode, she reluctantly does so.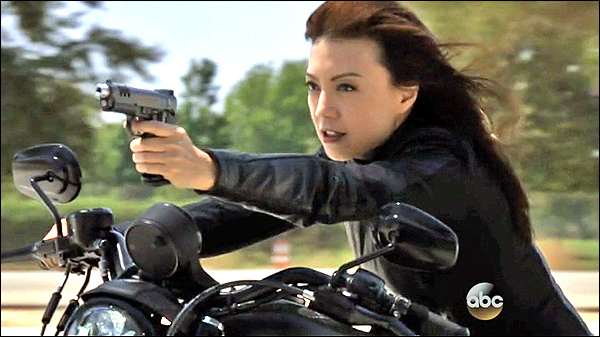 This scene was shot on Woodley Avenue, at it passes through Woodley Park
(between Burbank Blvd & Victory Blvd), in the Van Nuys CA.

The official address of Woodley Park is 6350 Woodley Avenue, but the
shoot was done mostly in the 5900 to 6200 blocks of Woodley.




In the S.H.I.E.L.D. screencap above (a telephoto shot), the camera is looking south,
as Woodley Avenue curves towards the southeast.


That white sign you see at the side of the road points out the entrance to
The Japanese Garden, at the park's water treatment plant.


( That garden has been used in several different productions, over the years,
most notably in Star Trek, where is played the role of Starfleet HQ. )


It was easy for me to recognize this one, because another TV show that is shot
here in L.A., "Teen Wolf" has filmed several scenes on this same stretch of road.



Here is a matching Google StreetView of that bend on Woodley: