The Southern California locations where Agents of S.H.I.E.L.D. is filmed.




Episode 7, of Season 2 ("The Writing on the Wall")


Former S.H.I.E.L.D. agent (and Hydra mole) Grant Ward has escaped from a S.H.I.E.L.D.
armored transport, and is seen entering a Hydra bar in Boston, called "Goldbrix Tavern".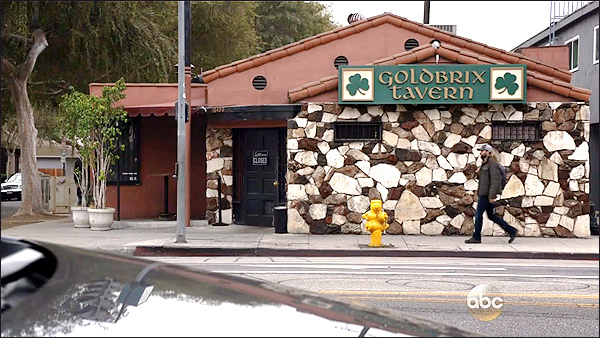 Outside the bar, S.H.I.E.L.D. agent Lance Hunter is sitting in a parked car, watching Ward as he enters.

Later, Hunter sees Hydra bigwig Sunil Bakshi arrive in a Mercedes.




After some dark banter with the bartender, Ward meets with Sunil Bakshi.

He tells Bakshi that he can get him face-to-face with Coulson ("close enough to put a bullet
in his head"), a prospect that most definitely interests & pleases Mr. Bakshi.




Later, when May leads S.H.I.E.L.D. agents in a raid on the bar, they find all of the Hydra
agents dead, except for Bakshi, who is neatly tied to a chair, as a present for Coulson.

Update: The same bar showed up again in the final episode (21) of Season Two,
"S.O.S.", where we see Ward grieving over having killed Agent 33.

He meets there with a handful of thugs, expressing his intent to form a new team.




These scenes were filmed an actual bar, but it's not named the Goldbrix Tavern.
And it's nowhere near Boston.

This is actually the oldest bar in Culver City, the Backstage Bar & Grill.

You'll find it at 10400 Culver Blvd, in Culver City, CA, at the NW corner of Culver & Motor Ave,
right across the street from the former MGM Studios (now Sony Pictures Studio).

Culver City is located about 10 miles west of downtown L.A., and has long been
a center of Hollywood filmmaking, dating back to the days of silent movies.

At 75 years old, this bar would have opened during the filming of "The Wizard of Oz".


Here is a Google StreetView panorama of the bar:



And here is a Google StreetView panorama of the bar's interior.




The photos on this page are stills from "Agents of S.H.I.E.L.D."
(which you can buy here) and are copyright ABC/Disney/Marvel.
The rest of the page is copyright Gary J. Wayne - 2016 / Seeing-Stars.com