In Episode 20 ("Ragtag"), the team goes to the CyberTek Corporation building
in Palo Alto, California, to try to steal their files about the Deathlok program.

While Coulson & May go inside, disguised as scientists, Skye & Trip wait outside in a truck
where Skye tries to hack into Cybertek's computer files. Meanwhile, Fitz/Simmons feed
Coulson & May techie dialogue (through earpieces), so they can pretend to offer former
S.H.I.E.L.D. secret technology to Cybertek (at a meeting with two Cybertek scientists).



Eventually, they discover that there are no computer files - that Cybertek avoids being hacked by
keeping all of their files old-school style: on paper, in steel file cabinets on the building's 4th floor.

So, Coulson & May take the blunt approach: they throw a file cabinet through the
closed 4th-floor window, sending it crashing down to the truck waiting below.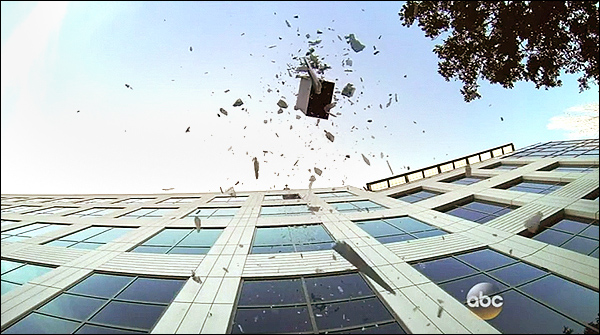 And then Coulson & May zip-line down from the 4th floor, to make their escape.

The building we see is actually at 8511 Fallbrook Avenue, in Canoga Park, CA. That's on
the northwest side of L.A.'s San Fernando Valley, near Chatsworth & North Hills.

This 160,498 square-foot office building is one of several similar buildings that make
up the campus of the Corporate Point office park. We are looking at the
south side of the building, which was vacant at the time of the filming.

Here is a Google StreetView of the building.


Here is a photo of the north side of the building: