(Here is a Google StreetView of the same stretch of road.)



1:07:26: On their first date, they go to a miniature golf course, after dark. And Emma does great.


This miniature golf scene was shot at Sherman Oaks Castle Park,
at 4989 Sepulveda Blvd, in Sherman Oaks, CA.

That's in the San Fernando Valley, at the interchange of the 405 and 101 Freeways.

(See more at their official website.)



1:08:46: Still on their first date, Emma & Adam go to a 50's malt shop/diner, where they share a shake.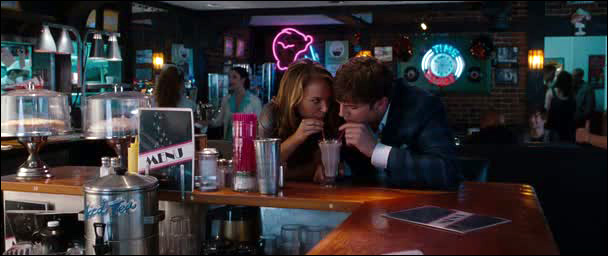 This is the second fake location in the film. It is just a studio set.

What made me suspect just that is the menu you see in the screenshot above. Most real restaurants
have the company name on their menus. So that generic, nameless menu made me suspicious.
[Thanks to Owen & Chas for this one.]



1:10:00: Still on their first date, Adam takes Emma to a unique "forest" of antique street lamps
He tells her he loves her. She reacts by getting angry and defensive, tries to fight him, then stalks away.

This was shot at LACMA (the Los Angeles County Museum of Art), at 5905 Wilshire Blvd.

That forest of streetlights is a work of art titled "Urban Light" (by Chris Burden);
it features restored cast-iron lamp posts that were once actual street lamps in L.A. County.
(It can be seen from Wilshire Blvd, as you can see from this matching Google StreetView.)


1:18:51: Emma goes with her mother to her sister's wedding.
In the screencap below, they are turning into the resort where the wedding is to be held.


In reality, they are turning into The Four Seasons Resort, at 1260 Channel Drive, in Santa Barbara.
The car is heading southeast on Channel Drive, when she turns left into the resort's gates.
(Interestingly, though, the resort interiors were shot somewhere else...)

(Here is a Google StreetView of the same resort entrance.)




1:38:47: After they've made up, they stop at a cafe for breakfast. He tells her she eats "like a baby dinosaur".

This scene was shot at the House of Pies coffee shop, at 1869 N. Vermont Ave,
in the Los Feliz section of Los Angeles (at the NW corner of Franklin & Vermont).

[Thanks to Mike of MovieShotsLA for some help finding this one.]
(Here's a Google StreetView of the coffee shop.)





1:39:58: In the closing scene, Emma & Adam rush into the resort where her sister is getting married.


Although the exterior shots of them driving into the resort gates (and getting out of the car) were filmed
where you would expect (at the Four Seasons in Santa Barbara), the minute they walk inside the door,
the actual location abruptly switches to 75 miles away, from Santa Barbara to Pacific Palisades.

The interiors were filmed inside the Bel-Air Bay Club,
at 16801 Pacific Coast Highway - in Pacific Palisades, CA.
Not only was that final scene shot in Pacific Palisades, all the previous resort interiors were also shot there.
For instance, the earlier scene of Emma & Katie talking on the resort's patio (1:21:00)
(seen below) was also filmed inside the Bel-Air Bay Club.

(Here's a matching Google StreetView of the Club.)