0:24:23: O'Hara begins recruiting members for his Gangster Squad.

First, he goes to the Club Alabam, "on Central Avenue", where he recruits an African-American
cop named 'Coleman Harris' (Anthony Mackie), who is handy with a knife.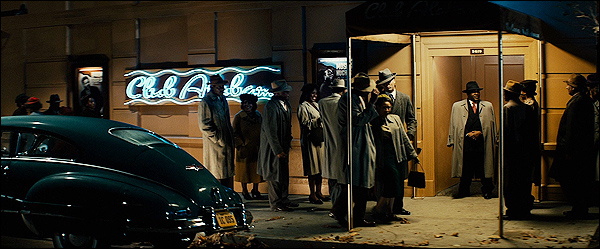 The 'Club Alabam' is actually two different places (neither of them on Central Avenue).
For the exterior (above), they used the front of the Highland Swap Mall, at 5615 N Figueroa Street,
in the Highland Park section of Los Angeles (between downtown & Pasadena).
Here is a matching Google StreetView of that storefront (without the facade).

For the club interior (above), they used the Catch One disco/club at 4067 W. Pico Blvd,
two blocks east of Crenshaw, in the Mid-City district of Los Angeles.

Here is a Google StreetView of the club.
(And here's the club's website.)




0:25:59: Next, he goes to

Cafe Caliente

, where he recruits two members of his squad:
'Max Kennard' (

Robert Patrick

), a grizzled sharpshooter with a pistol, and
Max's young partner, 'Officer Navidad Ramirez' (

Michael Peña

).

This scene was shot inside a local favorite, Lucy's El Adobe Cafe, across the street from
Paramount Studios, at 5536 Melrose Ave, in Hollywood. (They added the stained glass window.)

(You can read more about it here.)

Here is a Google StreetView of the restaurant.



0:28:05: A meeting between 'Mickey Cohen' (Sean Penn) and his mob rival, 'Dragna' (Jon Polito) takes
place at the Club Figaro, where Cohen shocks Dragna by declaring he plans to rule the city.





This was also shot at two different locations.


The

exterior

, seen above, was the front of an

art gallery (

GR Works

) at

114 W. 4th Street

,
in the old bank district of

downtown

L.A. (Note the ornate columns in this StreetView.)


The club's interior, on the other hand, was shot inside the old Tower Theatre,
at 802 S. Broadway, in downtown. The theatre was built in 1927, and the premiere
of the first talkie, The Jazz Singer, was held at the Tower. The ornate interior remains,
but the floor seats have been removed, so the producers were free to recreate the space.

(As you can see from this StreetView, the Tower Theatre indeed has a tower.)