1:02:10: We see Jacob alone at his ultra-modern bachelor home. It is where he later (1:06:04)
brings Hannah (after she throws herself at him), and where an odd seduction scene plays out.

Although it looks rather futuristic, this is a real house.

You'll find this $6 million mansion overhanging the edge of a hillside at the dead end of Skyline Drive,
near Laurel Canyon, atop the Hollywood Hills. It was built in 2007.

[Warning: This is a private home. Do not trespass on their property,
knock on their door, or do anything that might disturb the residents.]

(Here is a Google StreetView panorama of the house.)


1:17:11: In a scene that probably should have ended up in the "Deleted Scenes" menu (but didn't) we see
Cal's wife out on a date with her lover, David (Kevin Bacon), making idle chatter at a dark restaurant.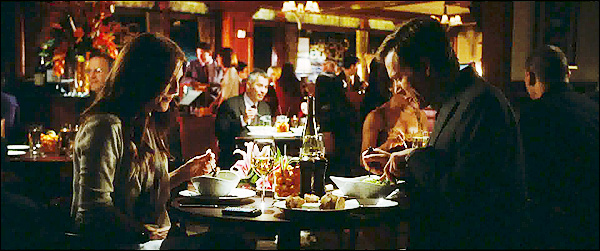 That scene was shot in a real restaurant, Cheval Blanc Bistro,
at 41 S. De Lacey Avenue (& Fraser Alley), in Old Pasadena, CA.

That's on the west side of the street, just south of Colorado Blvd,
about three miles southwest of the Weavers' home.

(The bistro has its own website, at chevalblancbistro.com )

Here's a Google StreetView of the restaurant.


1:24:31: Next, we see Cal and his kids out shopping for garden supplies, wood and paint
(to surprise his wife) at the hardware store where Jessica's father, Bernie, works.


They filmed these in an actual Lowe's store, at 13500 Paxton Street, in Pacoima, CA.
The store shares the Plaza Pacoima shopping center with a Best Buy & a Costco.

That's just south of the 118 Freeway, between the 5 & 210 freeways, about two miles east of
Mission San Fernando, in the upper northeast San Fernando Valley.

(Here is a Google StreetView of the store.)





1:25:04: While he's at home, Cal gets a phone call from Jacob, telling him that he's fallen in love.
Jacob is inside a wine store with Hannah (who, it turns out, is Cal's eldest daughter).

This scene was shot inside Red Carpet Wine & Spirits,
at 400 E. Glenoaks Boulevard, in Glendale, CA.

(That's on the south side of Glenoaks, a block & a half east of Brand Blvd.)

Here is a Google StreetView of the store.


1:27:55: Jessica shoots nude photos of herself, planning to send him to poor Cal (who is
completely unaware of the teen's crush on him). But when her father, Bernie, sees the
photos, and the envelope addressed to Cal, he flies into a rage, jumps into his car,
and goes speeding to Cal's house to do him bodily harm.

Jessica follows him in another car, running red lights as she tries to head off the confrontation.


The scene of Jessica running the red light (and almost getting hit by an oncoming car)
was shot at the intersection of New York Drive and Hill Ave, in Altadena.

Her car is heading north on Hill Ave, and she almost gets hit as she passes New York Drive,
(In the photo below, the camera is looking south.)

Here's a matching Google StreetView of the intersection.