But for the final scenes (where the bad guys try to blow up Charlie's house
with a rocket fired from a helicopter) you have to head north up the coast
a good 80 miles, to a place called "Sycamore Cove".
Sycamore Cove is part of Point Magu State Park, located at
9000 W. Pacific Coast Highway, in Malibu, 40 miles north of Santa Monica,
near the Ventura County Line.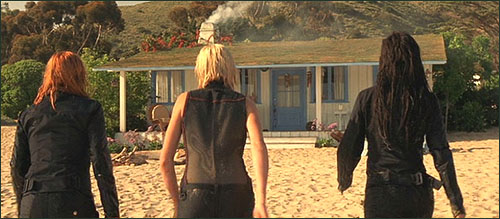 Charlie's house was shot at the same "Sycamore Cove".
And so was the very last scene, where the girls and Bosley are relaxing on the beach,
sipping drinks, when Drew spots Charlie watching them.
MORE "Charlie's Angels" Filming Locations!
The photos on this page are stills from the DVD of "Charlie's Angels"
(which you can buy by clicking here) and are copyright Sony/Columbia/Tri-Star Pictures.
The rest of the page is Copyright © 2019-Gary Wayne / Seeing-Stars.com