Seeing Stars: Restaurants Owned by the Stars.




8284 Melrose Ave.,
West Hollywood, CA. / (323) 852-7174

Just when it was beginning to look like celebrity-owned restaurants might be on the way out, along comes Dolce, a very stylish Italian restaurant which just happens to be owned by a collection of celeb investors.
"Who?" you ask? Well, think "That '70s Show": Ashton Kutcher ('Kelso'), Wilmer Valderrama ('Fez') and Danny Masterson ('Hyde'), plus other stars such as comedian Jamie Kennedy, Danny's brother Chris Masterson ('Francis' in "Malcolm in the Middle"), Dulé Hill ('Charlie' on "The West Wing"), and Simon Rex ('Mikey' on "Jack & Jill").
But if you're expecting a retro '70s look to the restaurant, guess again.
There is no sign outside identifying Dolce, but it's hard to miss. The exterior of the large, gray building is nondescript, but the interior is warm, very sophisticated, and not even remotely '70s.
Inside, the lighting is dim - votive candles flicker in narrow windows, and one of the first things that will catch your eye are the flames that blaze behind the wall of liquor bottles at the popular and crowded bar. Ceilings are high, walls glow with a golden hue. There are large, black leather booths, black leather chairs, tables topped with tight black leather tablecloths. An outdoor, candlelit patio (surrounded by cypress trees) offers an alternative - with white tablecloths. It's hard to miss the open wine room, offering over 2,000 bottles.
It's a young crowd here at Dolce, and a good-looking one - it can be hard to get in, as one might expect from Hollywood's latest hot spot. (Don't forget to make reservations.) The noise level is high, with waiters often shouting to be heard over the din. At times, it seems more like a club than a restaurant. That's not surprising, since the master planners for Dolce are former "Big Brother 2" contestant Mike "Boogie" Malin and former TV executive Lonnie Moore, the duo responsible for the popular club "Belly". They are obviously trying hard to be hip here, and so far they are succeeding.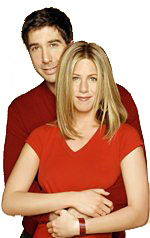 And as might also be expected, celebs are already showing up.
Ashton brought Demi Moore, while other stars spotted there include Britney Spears, David Schwimmer ("Friends"), Alyssa Milano ("Charmed"), Jennifer Aniston ("Friends"), Mira Sorvino ("Mighty Aphrodite"), Jason Biggs ("American Pie"), Queen Latifah ("Chicago"), Ben Stiller ("There's Something About Mary"), singer Sheryl Crow, rapper 'P. Diddy' Combs, Kevin Spacey, Salma Hayek, Josh Lucas, Paris Hilton and Jared Leto. And, of course, the rest of the "That 70s Show" cast has been known to come around.
The food here is not your typical "checkered tablecloth & red sauce" Italian fare. For a trendy spot, it's better than it probably needs to be and reasonably authentic.
You'll find Tuscan tomato & bread soup, crepes filled with ricotta, a good grilled prime rib, a very good Fusilli all'Aragosta (lobster fusilli),
Branzino del Mediterraneo and Mediterranean cuttlefish. (There is also an enoteca menu, filled with small dishes similar to Spanish tapas.)
The word Dolce means "sweet", so what's for dessert? Tiramisu seems to be the most popular item, but there's also zabaglione with fruit, sorbets, and an unusual wild berry soup with vanilla gelato.
Prices are moderate to high.
Dolce is open daily from 6 p.m. to midnight, and offers valet parking.
Flush with success from Dolce, the '70s gang have also opened two other L.A. restaurants:

Geisha House: a Japanese restaurant and sushi bar, located at 6633 Hollywood Blvd, in Hollywood (about three blocks east of Grauman's Chinese Theatre). Here's a link to the official Geisha House website. And a map link. (323) 460-6300


The Lodge: Wilmer owns this trendy, woodsy steakhouse located at 14 N. La Cienega Blvd (just north of Wilshire), in Beverly Hills. Here's a map link to the Lodge. (310) 854-0024.

All three restaurants have have been hits with the celebrity crowd.


Getting there: Dolce is located on Melrose Avenue, at the southeast corner of Melrose and Sweetzer Avenue. From Farmers Market, just go north on Fairfax to Melrose, turn left (west) and go 8 blocks west on Melrose to Dolce - which will be on your left (south) side.
Looking for something in particular? Search the Seeing-Stars website!