Seeing Stars: Final Resting Places of the Stars

PART II
5835 W. Slauson Avenue,
Culver City, CA. / (310) 670-7697





[This is page two of a four page article. Click here to go to the first page.]

Now, walk back to the grotto and go to the area with Bonita Granville and Rita Hayworth's graves. Right around the corner is another major star.
Climb a bit farther north up the hill, around to the north side, just behind the grotto (in Section F - Holy Rosary), and you'll find the grave of that famed comedian, singer, character actor and piano player, Jimmy Durante (1893-1980).
His grave is located three spaces in from the eastern curb, and two rows down from the rock grotto - to the left (east) of the statue of St. Joseph (in Tier 96, grave #6). Jimmy Durante, one of the most memorable characters of the Golden Age, was noted for his raspy voice and large "schnozzola"; he appeared in numerous movies in the 30's & 40's before moving on to host his own TV shows in the 50's. One of the last roles Jimmy did was as narrator of the seasonal cartoon "Frosty the Snowman."

[Click here to see a map of the grounds.]




Near Jimmy Durante's grave (behind you, when you're reading his marker) and located just above the grotto, is a full-size replica of Michelangelo's "Pieta" statue (which depicts the Virgin Mary cradling the crucified Jesus in her arms). The vantage point offers a striking panoramic view of the city below, which is well worth seeing. And there are several celebrities buried on the lawn behind the 'Pieta'.
If you sit on the bench behind this Pieta statue, then stand and walk 17 spaces straight ahead, then turn right and walk 7 rows, you will come to the grave of actress Loretta Young (1913-2000). It's Tier 65, Grave 49 (just 10 spaces to the right of the lone Canary Island pine tree nearby.)
You won't be able to find the grave without directions, since Loretta Young's name isn't on the marker. In life, she was always very close to her mother, Gladys. And in death, she requested that her ashes be scattered atop the graves of her mother and her sister, Polly Ann. However, cemetery rules prohibited this, so instead her ashes were buried in the grave of her mother. You will notice that there are two places for flowers at this grave, instead of the usual one...
A major star in her day, she won an Academy Award for Best Actress in 1947 for her role in "The Farmers Daughter." She was nominated again in 1949 for her role as a nun in "Come to the Stable." She starred opposite superstars such as Clark Gable, James Cagney, Spencer Tracy, Cary Grant, Tyrone Power, David Niven, Robert Mitchum, William Holden and Joseph Cotten in films such as "The Bishop's Wife" and "Mother is a Freshman."
She shared the screen with Charles Boyer (also buried here at Holy Cross, just a few yards away) in two films: "Caravan" (1934) and "Shanghai" (1935).
In the 1950's and 60's she starred in her own Emmy-winning TV show, "The Loretta Young Show," most remembered for her swirling entrances in stunning gowns.
It's hardly surprising that Loretta is buried at a Catholic cemetery, since she worked tirelessly for Catholic charities, including a home for unwed mothers and a children's foundation. On movie sets, she insisted on propriety and even forced studio workers to contribute a coin to a kitty every time they swore. Legend has it that once the Robert Mitchum swore up a storm and then dropped $5 into the kitty.



In the same section F (Holy Rosary), but much farther down the western slope, is actress Audrey Meadows (1922-1996), famous for her role as 'Alice Kramden', the sarcastic, long-suffering wife of Ralph Kramden (played by Jackie Gleason) in the classic TV sitcom "The Honeymooners." Later, she played the Ted Knight's cranky mother-in-law in the sitcom "Too Close for Comfort."
Return to the copy of Michelangelo's statue 'The Pieta'. Audrey's grave is about 30 rows down from this Pieta statue, in tier 30, grave 58. Her name on the marker reads "Audrey Meadows Six." (her husband, Robert Six, is buried nearby). Just check the round, numbered markers in the grass as you walk down the slope to pinpoint the exact location.



On the grassy slope in between Jimmy Durante and Audrey Meadows are three other notable stars: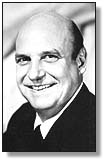 About three rows down from 'The Pieta' statue is the grave of Jackie Coogan (1914-1984) (Section F, Tier 56, grave #47), who started out as a popular child star opposite Charlie Chaplin in "The Kid" (1921), and ended up playing the macabre 'Uncle Fester' on TV's "The Addams Family."
Because his parents squandered the money he had earned as a child, the 'Coogan Law' was passed requiring the parents of child stars to save a certain amount of the child's earnings for his future.





In the very same row (Tier 56),
and just seven spaces to the right (south) in grave #62 is actor Pat O'Brien (1922-1996), who made 116 movies (from the 1920's silent "Shadows of the West." to 1981's "Ragtime," usually portraying an Irishman, often a Catholic priest. His most memorable role was as coach Knute Rockne (opposite Ronald Reagan's 'Gipper') in the movie "Knute Rockne, All-American."




And in the very same section F, just two rows up and three graves to the right (south) of Jackie Coogan (in Tier 54, grave #50), is another O'Brien! This time its Oscar-winning actor Edmond O'Brien (1915-1985), who starred in such films as the original Big Brother epic "1984." and the original "D.O.A." I personally remember him well as Southern boss 'Will Varner' in the short-lived TV series, "The Long Hot Summer."





From Pat O'Brian's grave, go just one row up (towards the road) and four spaces to the left, and you'll find the grave of Ann Miller (1923-2004). Younger readers may remember her best from the long-running stage show "Sugar Babies", which she starred in with Mickey Rooney. But that was actually near the end of her long career. If you're a fan of movie musicals, you're sure to have seen Ann. Remember "Easter Parade" with Fred Astaire and Judy Garland? Ann was Fred's snooty girlfriend. Remember "On the Town" with Frank Sinatra and Gene Kelly? Ann was the beautiful anthropologist who danced in the museum number "Prehistoric Man".


Like Eleanor Powell, she started out as one of Hollywood's best tap dancers, and even after she sequed into acting, her films often included a dance number that gave her an opportunity to show off her legs. She usually played the second feminine lead (often a brassy, good-hearted showgirl), and was rarely the star in her films. But she also got a chance to grab the spotlight on stage in Broadway musicals, and she has a star on the Hollywood Walk of Fame.





Legendary announcer Chick Hearn (1916-2002), the voice of the L.A. Lakers for over 40 years, is buried in this same section F at Holy Cross, up near Loretta Young's mother, in Tier 64, grave 42.
Chick's funeral (at St. Martin's) was attended by Mayor Hahn, Governor Davis, Cardinal Mahoney, actor Jack Nicholson, and just about every basketball great in the sport's L.A. history. Doing Lakers play-by-play for a record 3,338 games, Chick coined such familiar terms as "slam dunk" and "air ball". He was so popular that, following his death,
the major L.A. television stations devoted several hours to carrying his funeral live on TV - and huge line of fans formed at the Staples Center, waiting for a chance to file past and take a final look at his broadcast booth.
To find his grave (which has a Lakers symbol on the marker, stand directly behind the statue of the Pieta, then follow the row of markers ahead about 19 spaces, then walk over two rows to the right. His grave is located just two spaces to the right of a tree.





Now it's time to leave the grotto and this side of the park and venture into other sections.
Fred MacMurray, John Candy, Ray Bolger, Rosalind Russell, Lawrence Welk,
Vince Edwards, Spike Jones, Dennis Day, Mary Frann, and others.]

Continue the tour

[This is page two of a four page article. Click here to go to the first page.]
Looking for something in particular? Search the Seeing-Stars website!