Seeing Stars: Final Resting Places of the Stars

Part III
6001 W. Centinela Avenue,
Culver City, CA. / (310) 641-0707




[This is page three of a three-page article. Click here to go to the first page.]



To find the remaining graves at Hillside, we have to go back outside and do a bit of driving. Check the map of the grounds, and drive around to the area in front of (west of) the main mausoleum.


In March of 2002, "Mr. Television" himself, Milton Berle (1908-2002), passed away at the venerable age of 93. Back when television was first getting started, Milton Berle was TV's biggest star. Milton had started out as a child actor in silents, moved onto the vaudeville stage, and became a leading nightclub performer, then segued back into movies and radio before bringing his act to TV.
There were fewer than 150,000 sets in use in America when Milton brought his "Texaco Star Theater" variety show to the air in 1948. It was live TV, and Milton soon created a persona for himself, a cigar-chomping, joke-stealing, egomaniacal funnyman who wasn't afraid to put on a dress for a laugh.
The show was hugely successful. It's said that many people bought television sets just to watch "Uncle Miltie", as he was affectionately known. On Tuesday evenings, when his show aired, restaurants emptied, stores closed early, and movie theatre attendance plummeted. 80% of all TV sets were tuned into the Milton Berle show. By the time his show had wrapped up in 1955, there were 26 million TV homes in America.
His movies included "It's a Mad Mad Mad Mad World" and "Sun Valley Serenade".
Here's how to find Mr. Berle's grave. When you head down the hill from the mausoleum, back towards the street (Centinela Avenue), you'll pass a number of walls of outdoor crypts, on your left (southwest) between the road and Centinela Ave. Look for the giant color mural of a rabbi blessing a young married couple. You can't miss it. This is the Acacia Gardens section. Park your car in front of this mural. Now, the walls behind the mural form a cube. As you are facing the mural, simply walk around the corner to the right of the mural
(your right, the rabbi's left). Milton's crypt is in the very first column around the corner, three rows from the bottom - right next to the edge of the mural.
Update: As of 2014, I'm told that the blessing mural has been painted over, and is now just a blank wall. That's unfortunate - it was a very nice mural, and made Milton's grave easy to find.
So, it is now just the first blank wall you see as you come down the hill from the mausoleum on the left.



In the same Acacia Gardens mausoleum is actress Nell Carter (1948-2003). Nell was best known as the housekeeper / mother-figure on the popular 80's sitcom, "Gimme a Break" (for which she also sang the title song). But she was also known for her Broadway musical roles. She won a Tony award in 1978 for her role in the musical "Ain't Misbehavin", and also appeared in productions of "Annie" and "Hello Dolly". She also had roles in the soap opera "Ryan's Hope" and the TV series "The Misadventures of Sheriff Lobo," She converted to Judaism before her first marriage to businessman Georg Krynicki.
At just 4'11", she had battled obesity and diabetes for years, before she passed away in her Beverly Hills home at age 54.
Her crypt is located near Milton's. From Mr. Berle's crypt, turn right, then right again, then go around the corner and turn right again. Nell's crypt is on the very top row.


In 2006, Hillside welcomed a true Hollywood legend: actress Shelley Winters (1920-2006).
Early in her career, she was cast as a blonde sex symbol. As she matured, she found greater success with more gritty roles. Shelley won two Academy Awards: one for her performance as the mean-spirited mother of the blind girl in 1968's "A Patch of Blue" (with Sidney Poitier), and another for her role as 'Mrs. Van Daan' in 1959's "The Diary of Anne Frank." She was nominated for Oscars in 1972's "The Poseidon Adventure", and 1952's "A Place in the Sun" (with Elizabeth Taylor).
She also had memorable roles in 1962's "Lolita" (as Lolita's mother) and as 'Ruby' in the original "Alfie". In 1951's chilling "Night of the Hunter", she played the gullible woman who is seduced into marrying the murderous preacher (played by Robert Mitchum). In all, she appeared in more than 100 films.
According to her two autobiographies ( "Shelley" and "Shelley II"), her personal life was just as interesting. She was the roommate of Marilyn Monroe when they were both just starting out. She wrote of real-life romances with such Hollywood stars as Clark Gable, Burt Lancaster, Marlon Brando, William Holden and Errol Flynn. One of her marriages, to fellow actor Tony Franciosa, reportedly broke up when he had an affair with Bogart's widow, Lauren Bacall. (By an odd coincidence, Franciosa died just a few days after Shelley.)
If you want to leave flowers, you'll find her lawn grave not very far from Milton Berle's area, in the Hillside Slopes section, (block 11, plot 358, space 8) - see the map.
From Milton's mural, look north up the road, and you'll see a square, stone trash receptacle at the curb, and just beyond that (also at the curb) is a white stone bench. Park next to this bench and get out. Look up the grassy slope towards the mausoleum, and you'll see a large tree with another white bench next to it. Walk up the grassy slope (17 rows) to that tree. Shelly's lawn grave is located just five spaces to the right (south) of that tree & bench.



Nearby, also in a lawn grave, is Tom Poston (1921-2007), one of the top comic character actors on TV. Tom is perhaps best remembered for his role on Bob Newhart's '80s sitcom "Newhart", where he played 'George Utley', the easy-goin' but incompetent handyman at Newhart's Vermont inn. He was also on Newhart's later sitcom, "Bob". Not surprisingly, Bob Newhart was one of the pallbearers at Tom's funeral.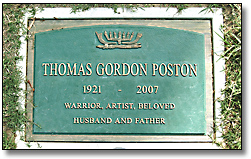 He also appeared as the annoying neighbor in TV's "Mork & Mindy" (with Robin Williams), and as a panelist on several game shows, such as "To Tell the Truth". But his familiar hangdog face popped up on dozens of TV shows, ranging from "Will & Grace" to "Cosby" to "ER". His characters tended to be bewildered bumblers and nice guy everymen.
(Incidentally, Tom wasn't Jewish, but his wife was.)
---
Tom was married to another Bob Newhart veteran, actress Suzanne Pleshette (1937-2008).
She passed away less than a year after Tom, and is buried near him - just one row down and three spaces to the left, in a lawn grave, just above the curb, in the Garden of Abraham section.


Suzanne is probably best remembered as 'Dr. Hartley's wife, 'Emily' on TV's "The Bob Newhart Show" of the '70s. She also had a memorable cameo at the end of the very last episode of Bob's later, '80s sitcom "Newhart" - where Bob woke up in bed next to Emily, and realized that the entire, crazy "Newhart" plotline had just been a bad dream.
(Tom also appeared occasionally on the first sitcom, as Bob's old friend "The Peeper".)
But before Newhart, she appeared in such movies as Hitchcock's horror classic, "The Birds", "Support Your Local Gunfighter" (with James Garner), and Disneys' "The Shaggy D.A."
It's time to head away from the mausoleum.
Check the map of the grounds again, then drive northwest to Garden of Memories section, located to the northwest of the park's entrance gates. Here, in the Court of Love, you'll find the grave of one mobster and one Stooge.
The latter is Moe Howard (1897-1975), leader of The Three Stooges. Alas, his wall crypt is hard to find. It's located deep within the huge Garden of Memories outdoor mausoleum. His crypt is in a small, triangular courtyard located between the Court of Love
and the Court of Dedication, but the only entrance to this courtyard is through the Court of Love (pick up a map at the administration office near the entrance). It is a simple wall crypt, located two up from the bottom, against the back (west) wall of this courtyard, five markers from the right (northwest) corner of the triangle.
(Incidentally, for faithful fans of the Three Stooges: Moe's brother Curly Howard is buried at Home of Peace cemetery in Boyle Heights, and Larry Fine is buried at Forest Lawn Glendale.)



Gangster Mickey Cohen (1914-1976) is also here (in the same Alcove of Love, crypt A-217), buried as 'Meyer H. Cohen' in a standard wall crypt (at the other corner to the left of Moe.). He ran the Hollywood mob back in the 1930's. A former prize fighter, he fell in with Bugsy Seigel and began operating a bookie joint out of several Hollywood locations, including the back room of what is now the Comedy Store.
A flashy dresser and a big spender, he tended to attract attention, and was the target of several failed mob hits. He was eventually arrested on tax evasion and sentenced to 15 years in prison. He was portrayed several times in the movies, including "Bugsy" (where he was portrayed by actor Harvey Keitel), the TV series "Fallen Angels" (where he was portrayed by James Woods) and the recent "L.A. Confidential."
Check the map of the grounds again, then drive to the far northeast corner of the park, and the Canaan crypts section.

It's here that you'll find the wall crypt of animator Friz Freleng (1906-1995), who helped create all of the classic Warner Bros. toons, including Bugs Bunny, Porky Pig and Daffy Duck. In fact, he animated the very first cartoon ever released by Warner Bros. (in 1930).

As soon as you reach the street in front of this section, park and get out of the car. You will see a dark statue holding a long staff. To the right of this statue is a wall of crypts, with a Star of David. Walk up the ramp towards the Star of David, and the grave of Friz Freleng will be on your left side, on the wall just around the corner from the statue. The crypt is at eye level, and has two different plaques. The lower plaque is unique, containing images of many of Friz's animated 'Looney Tunes' creations.
[click on the small images to see larger photos.]
Just to the right (east) of Friz Freleng, in the same outside mausoleum, is the crypt of funnyman Jan Murray (1916-2006). His crypt is located in the exact center of the south-facing wall, two spaces up from the bottom, in E-249.
Jan Murray had a lot in common with Milton Berle: both were tall, old-fashioned, stand-up comics from the "borscht belt" school of Jewish ethnic humor. He never gained the same kind of stardom as "Mr. Television", but Jan was a very familiar face on TV in the 1960s & '70s - a frequent guest (and guest host) on the Tonight Show with Johnny Carson, and a regular on Hollywood Squares.
He also hosted a popular game show in the 1950's called "Treasure Hunt" and appeared on a number of TV shows from the era, including "Mannix", "The Lucy Show" and "The Man From U.N.C.L.E."

Also on the wall at Canaan crypts, farther right, past the statue, you'll find the crypt of actor Gene Barry (1919-2009).

He was best known for his starring roles in both the original 1953 sci-fi classic "War of the Worlds", (a role later reprised by Tom Cruise), and on the hit TV Western series "Bat Masterson" in the late 1950s & early '60s.

Barry's character stood out in an era when TV was filled with Westerns.
On the show, Barry played "Bat" as a dapper, debonaire gambler who wore a derby and carried a cane, but was also good with a gun. He later starred in "Burke's Law" and the "Name of the Game".

His crypt is three from the bottom, and about six to the right of that statue.


You can find two stars for the price of one, so to speak, by heading south across the road (and a little to the east) to the Court of Matriarchs mausoleum, by Sunland Gardens.
There, you'll find the wall crypts of actress/dancer Cyd Charisse (1922-2008) and her husband, singer Tony Martin (1913-2012).

They are on the first floor, wall S, crypt 40.
Cyd is best remembered for dancing with Gene Kelly in the Broadway Melody ballet number in the classic "Singin' in the Rain" and "Brigadoon", and dancing with Fred Astaire in "Silk Stockings" and "The Band Wagon".

Her husband, Tony Martin, was a matineee idol with a semi-operatic voice, but the baritone managed to have 12 songs hit the Top Ten in his day (includingas "There's No Tomorrow" and "I Get Ideas".)
He also appeared in a number of films, most of them musicals, but also including the 1948 drama "Casbah".

He had been
briefly
married to actress Alice Faye, but his marriage to Ms. Charisse lasted 60 years. Despite the fact that he was almost ten years older than Cyd, and despite the fact that she lived to age 86, Tony outlived her, living to age 98.
Now, drive west down the same road that runs past the Canaan crypts, and stop at the curb marker that reads "Mount of Olives 5". Actor Vic Morrow (1929-1982), father of actress Jennifer Jason Leigh, is buried in a lawn grave on the right (north) side of the road.
Look for a tree near the curb here with a white bench next to it. Vic is buried in the first row to the right of the tree (when your back is facing the road), seven or eight spaces in from the curb.
Vic Morrow was perhaps best known for his role of Sgt. Chip Saunders in the TV war series, "Combat." (His "Combat" co-star, Rick Jason, is buried at Hollywood Forever cemetery.)
But even that role was overshadowed by reports of his tragic death, which made worldwide headlines. Vic was carrying two children while filming a chase scene in "Twilight Zone: the Movie," when a helicopter flying low overhead was hit by a special-effects explosive used in the filming. The copter crashed, its blades decapitating Morrow and killing both child actors.
[Click here to see a map of the Hillside grounds.]

The most recent addition to Hillside is none other than 'Mr. Spock' himself, actor Leonard Nimoy (1931-2015).

He played the beloved, pointy-eared, half-Vulcan on the original "Star Trek" TV series in the 1960s for just three seasons, before the show was canceled in 1969. But he spent the rest of his life being identified with the character.

In 1979, the popularity of "Star Wars" renewed studios' interest in sci-fi sagas, and Paramount launched a series of new "Star Trek" movies that revived the U.S.S. Enterprise on the big screen, with Leonard Nimoy back in the classic role of Spock, opposite William Shatner's Captain Kirk.

As mentioned elsewhere on this site, he was inspired to create Spock's famous spread-finger Vulcan salute by a similar gesture used by Jewish priests during blessings.

Over his career, Leonard Nimoy played many roles, mostly on TV, ranging from Apache warriors on old TV westerns to a regular role (as 'Paris') on the original "Mission: Impossible" TV series. And he even directed. But it always seemed to come back to Spock.

In 1975, perhaps a little frustrated by it all, he wrote a book titled "I Am Not Spock". But two decades later, in 1996, he wrote another book (perhaps surrendering to the inevitable) called "I Am Spock".

Just two years before his death, he once again appeared as the (aging, time-traveling) Vulcan in "Star Trek: Into Darkness", part of Paramount's' new reboot of the "Star Trek" saga with a new cast filling the well-known roles.

Among the mourners at his funeral here at Hillside were "Star Trek" director J.J. Abrams, Zachary Quinto (who plays young Spock in the new films) and Chris Pine (who plays young Kirk).

To find his grave, you'll have to look behind (east/northeast of) the main mausoleum.

Behind it, you'll find a curving path that wanders past a very attractive area filled with boulders, waterfalls, ponds and flowers. This is called The Garden of Salomon. It is hidden behind (northeast of) the area where you'll find the graves of Lorne Greene and Dinah Shore.
If you park at the curb, at the (east/southeast) start of this path, and walk in (west/northwest), this curving path will first pass a number of lawn graves, then it will go over a small wrought-iron footbridge, before reaching the waterfall area. Mr. Nimoy's grave is just past this small footbridge.

In fact, it's the very first small boulder you will encounter after the bridge ends, on your right side.

It would appear that he was cremated and his ashes buried either under or within the boulder. There is a marker on the boulder that identifies it (see the photos).

As of March 2015, when I shot these photos, the current marker was a temporary, paper one. Since then, a permanent marker has been added to his grave.

The official location is Garden of Solomon, Block 4, Space 10. (This Bing map will show you the exact spot.)

There are two other celebrities buried along the winding path of this new area of brooks & ponds, along with 'Mr. Spock', and surprisingly all three died in the same year: 2015.


Just a few yards past Leonard Nimoy, on the other side of the curving path, you'll find the lawn grave of Broadway legend Theodore Bikel (1924-2015).

Most famous for his lead role of 'Tevia' in "Fiddler on the Roof", which he performed on stage over 2,000 times, he also originated the role of Captain Von Trapp in Broadway's "The Sound of Music".

Bikel appeared in a number of films and TV shows, as well, including "The African Queen" (with Bogart) and "The Defiant Ones" (with Sidney Poitier and Tony Curtis"), a performance for which he was nominated for an Oscar.

On TV, he starred in a memorable episode of "The Twilight Zone", and "Star Trek" fans will remember him as Worf's (human) adopted-father.

Continue on this same path, about 30 yards past Leonard Nimoy, until you come to the next small bridge. Look to your left, and you'll see a large sarcophagus with a white fountain in front, and Greek columns supporting a roof-life structure above.

This is the grave of Jerry Weintraub (1937-2015). You may be trying to place that familiar name, but Mr. Weintraub was a behind-the-scenes Hollywood star, a producer who gave us films like "The Karate Kid", "Oh, God!" and the "Oceans Eleven" franchise, and even the TV series "Westworld".
(Of course, he wasn't always behind the scenes. He liked to give himself small acting roles in his own films, such as "Oceans 11", where he played a casino gambler.)
Starting out as an agent and concert manager, he also produced the musical TV specials of a number of singers that he also represented as a manager, including Frank Sinatra, Neil Diamond, John Denver and the Carpenters.


Hillside is a superb final resting place for Hollywood's elite, and a very interesting place to visit. My only complaint is that most of the colorful flowers decorating the crypts turned out to be plastic...
While you are in the neighborhood, you should make it a point go next door to Holy Cross Cemetery, where you'll find the grave of the beloved Bing Crosby and many other celebrities (see the accompanying article).
[This is page three of a three-page article. Click here to go to the first page.]





Hours: Sun-Fri: 8:30 AM - 4:30 PM. Closed on Saturdays.
Getting there: Hillside is located just south of the Fox Hills Mall, southeast of the intersection of the San Diego (405) Freeway and the Marina Del Rey Freeway. Its green hillsides and large Jolson memorial can be easily seen from the 405 freeway. / From the San Diego (405) Freeway north, take the Slauson Avenue exit. Turn right (east) at the first stoplight on Green Valley Circle, and drive less than half a mile to Bristol Parkway, then turn right again (south) on Bristol Parkway. Go two blocks south on Bristol to Centinela Avenue (at the base of the 405 freeway). Turn left (southeast) on Centinela and go a short distance to the cemetery gate (look for the green & white sign with a Star of David), then turn left through the park's open iron gates.