ItAm

Seeing Stars: Hollywood Award Ceremonies



at the Microsoft Theatre
Los Angeles, CA.
Academy: (818) 754-2800


The 74th annual Emmy Awards were given out on
Monday, September 12, 2021,,
at the Microsoft Theatre, in Los Angeles.



( For a full list of nominees and winners,
click here to go to the Emmy's official list. )



The annual Emmy awards show is television's biggest night. TV's version of the Oscars have been awarded each summer since 1948 by the Academy of Television Arts & Sciences, and over 600 million viewers (in 85 countries) tuAndne in to watch. Virtually every star of the small screen shows up.
You can see stars from your favorite TV series, such as Jim Parsons ("The Big Bang Theory"), Bryan Cranston ("Breaking Bad"), Peter Dinklage ("Game of Thrones"), Claire Danes ("Homeland"), Kevin Spacey ("House of Cards"), Julia Louis Dreyfus ("Veep"), Jessica Lange ("American Horror Story") and Julie Bowen ("Modern Family").

The Emmy Awards show is
usually
held on the third Sunday in September.
But because this year's show Is broadcast on NBC, and NBC likes to avoid competing with Sunday Night Football, the was held on
Monday, September 12, 2022
.
The show was hosted by SNL's
Kenan Thompson
.
It was a good night for "
Succession
" and "
Ted Lasso
", as well as "
The White Lotus
," "
Squid Game
" and "
Abbott Elementary
".
Due to the coronavirus crisis, the 2020 Emmy awards were held virtually, but In 2021, they were back live at the
Microsoft Theatre
, at
L.A. Live
, across from the Staples Center, in downtown L.A., with
Cedric the Entertainer
as host.
it turned out to be a very good night for "
Ted Lasso
", "
The Crow
n", and "
Mare of Easttown
", Which all took home multiple Emmy awards in their respective categories.
( For a full list of nominees and winners,
click here
to go to the Emmy's official list. )
In 2018, i the show was held on
Monday, September 17, 2018
,
The hosts were
Saturday Night Live
's
Colin Jost
and
Michael Che
.
Emmy award presenters that year included Kit Harington, Michael Douglas, Tina Fey, Alec Baldwin, Tracy Morgan, Rachel Brosnahan, Millie Bobby Brown, Sandra Oh, Kate McKinnon, Constance Wu, Taraji P. Henson and Bob Odenkirk.
In
2017,
the host was nighttime host
Stephen Colbert
.
2017's presenters included Alec Baldwin, Jason Bateman, Jessica Biel, Alexis Bledel, Carol Burnett, Viola Davis, Laura Dern. Edie Falco, Anna Faris, Jane Fonda, Nicole Kidman, Norman Lear, LL Cool J, Seth MacFarlane, Melissa McCarthy, Debra Messing, Seth Meyers, Lea Michele,
Jim Parsons, Dolly Parton, Sarah Paulson, Emmy Rossum. Lily Tomlin
Cicely Tyson Oprah Winfrey, and Reese Witherspoon, among others.
Click here
to see the names of the winners
.
In 2016, the host was
Jimmy Kimmel
.
save
In 2015, the Emmys' host was
Andy Samberg
, SNL alum and star of the hit sitcom
Brooklyn Nine-Nine.

2015 presenters
included Lady Gaga, Mel Brooks, Kerry Washington, Mindy Kaling, Will Forte, Tina Fey, Adrien Brody, Marcia Gay Harden, Emma Roberts, Colin Hanks, LL Cool J, Zachary Levi, Viola Davis, Jamie Lee Curtis, Jane Lynch, Ben McKenzie, John Stamos, Eric Stonestreet, Maggie Gyllenhaal, Lena Headey, Rob Lowe, Fred Savage, Liev Schreiber, Amy Schumer, Amy Poehler, and many others.
In 2014,
they were held a month earlier than usual, on Monday, August 25. The host for that year's show was
Seth Meyers
.
2014 presenters included Halle Berry, Julia Roberts, Jim Parsons, Bryan Cranston, Katherine Heigl, Matthew McConaughey, Woodey Harrelson, Jay Leno, Tina Fey, Debra Messing, Zooey Deschanel, Jimmy Kimmel, Sofia Vergara, Julia Louis-Dreyfus, Jimmy Fallon, Kerry Washington, Mindy Kaling, Lucy Liu, Hayden Panettiere, Gwen Stafini, Julianna Margulies, Viola Davis, Allison Janney, Octavia Spencer, Lena Headey, Steven Colbert, Uzo Aduba, Liev Schreiber, Andy Sandberg, Ricky Gervais and Weird Al.

The previous year (2013), the host was (wait for it...) Neil Patrick Harris.


Emmy nominees in recent years have also included:
Kiefer Sutherland ("24"), Teri Hatcher ("Desperate Housewives"), Kevin James ("The King of Queens"), Sally Field ("Brothers & Sisters"), Steve Carell ("The Office"), Charlie Sheen ("Two and a Half Men"), James Spader ("Boston Legal") Charlie Sheen ("Two & a Half Men"), Geena Davis "Commander in Chief", Peter Krause ("Six Feet Under"), Tony Shalhoub ("Monk"), Holly Hunter ("Saving Grace") and Alec Baldwin ("30 Rock"), Martin Sheen (President Bartlet on "The West Wing"),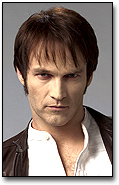 Sarah Jessica Parker (Carrie on "Sex and the City''), James Gandolfini ("The Sopranos"), Jennifer Garner ("Alias"), Debra Messing ("Will & Grace''), Kelsey Grammer, ("Frasier"), Anthony Edwards (Mark Greene on "ER"), Calista Flockhart ("Ally McBeal"), Michael Richards (Kramer on "Seinfeld"), Ray Romano ("Everybody Loves Raymond"), Jenna Elfman ("Dharma"), Helen Hunt (Jamie in "Mad About You"), Jane Seymour ("Doctor Quinn"), Dennis Franz ("NYPD Blue"), Roma Downey ("Touched By An Angel"), Garry Shandling, Christine Lahti, Jane Leeves, Kim Delaney, Julianna Margulies, Eriq La Salle, Christine Baranski, John Larroquette, Carol Burnett, Charles Nelson Reilly, Jan Hooks, Laura Innes, Rip Torn and Hank Azaria.
Recent special events on the Emmy stage included Whitney Houston hosting a segment on TV Cinderella stories, with pop singer Brandy singing "The Sweetest Sounds'', Julia Louis-Dreyfus ("Seinfeld") hosting a segment on TV's farewell episodes, while Jay Leno and Chris Rock told how television has affected their lives.
And the celebs you see at the show aren't necessarily TV regulars. You can see presenters such as Neve Campbell, Cher, Carl Reiner, Mel Brooks, and Gregory Hines, as well as movie stars who have turned in a single exceptional performance on television, such as Bette Midler, Robert Duvall, Meryl Streep, Glenn Close, Michael Caine, Diana Rigg, Armand Assante, Tracey Ulman, Billy Crystal, Beau & Jeff Bridges, and Bridget Fonda.
Nominees have included: Tom Hanks, Jack Lemmon, Sigourney Weaver, George C. Scott, Emma Thompson, Patti LuPone, Michael Crawford, Danny Glover, Helena Bonham Carter, Hume Cronyn, Mel Brooks, Ellen Barkin, John Cleese, Jamie Lee Curtis, Ving Rhames, Sam Neill, Martin Short, Mare Winningham, Julie Harris, Nathan Lane, Olympia Dukakis, Patrick Stewart, Halle Berry, Swoosie Kurtz, Cloris Leachman and Francis Ford Coppola.
In 2012, thee show was held on Sunday, September 23. The host was Jimmy Kimmel.

2012 award presenters included Jim Parsons, Amy Poehler, Ricky Gervais, Louis C.K., Ginnifer Goodwin and Mindy Kaling.
The 2011 host was none other than coach Sue Sylvester from "Glee", Jane Lynch. Presenters includes her fellow "Glee" star, Lea Michele, as well as Ashton Kutcher, Amy Poehler, Rob Lowe, Kaley Cuoco, Sofia Vergara, Zooey Deschanel, Ian Somerhalde, Don Cheadle, and Will Arnett, among others.

In 2010, the host was Jimmy Fallon.
In 2009, the host was Neil Patrick Harris.
In 2008, their first year at the Nokia, they opted for a team of hosts, all hosts of reality/competition shows: Tom Bergeron, Ryan Seacrest, Heidi Klum, Jeff Probst and Howie Mandel.
Prior to 2008, the Emmy show had originated from the Shrine Auditorium, in downtown Los Angeles.
In 2007, the 59th annual show was held on Sunday, September 16, the last Emmy show held at the Shrine. The host was American Idol's Ryan Seacrest.
In 2006, the 58th annual show was held on Saturday, August 27, 2006, at the Shrine.
In 2005, the host was Ellen Degeneres.
In 2004, it was hosted by Gary Shandling. Presenters included Conan O'Brien, Sarah Jessica Parker ("Sex & The City"), Dennis Franz ("NYPD Blue"), Matt LeBlanc ("Friends" & "Joey"), Kiefer Sutherland ("24"), Eric McCormack ("Will & Grace"), James Spader ("The Practice"), Amber Tamblyn ("Joan of Arcadia"), Donald Trump (has "The Apprentice"), Kathryn Morris ("Cold Case"), Teri Hatcher ("Lois & Clark"), Jason Bateman ("Arrested Development"), Portia de Rossi ("Ally McBeal"), Jon Stewart ("The Daily Show"), Zach Braff (Scrubs"), and Mischa Barton ("The O.C.").

Tickets: Unlike the Oscars, in past years, it was possible for the public to buy tickets to the Emmy awards show. All you had to do is request an order form by sending an email to olander@emmys.org.


However, in 2014, the Academy changed their policy. Faced with a higher demand for tickets awards show from their members and those in the industry, starting this year, they will no longer sell tickets to the general public.


(Also see the story about the Emmy Plaza in North Hollywood.)

Getting there: Getting there: The Microsoft Theatre is located right next to (north of) the Staples Center (which is just north of the Los Angeles Convention Center), on the southern edge of downtown Los Angeles. It is located just to the east of the Harbor (110) Freeway, just north of the Santa Monica (10) Freeway. It's at the northwest corner of Figueroa & Chick Hearn Court, bounded by Olympic Blvd to the north, Chick Hearn Court (11th Street) on the south, Figueroa on the east, and Georgia Street (and the 110 Freeway) on the west.
[For more information on this subject, you can access the Emmys official website at: http://www.emmys.org.]
Looking for something in particular? Search the Seeing-Stars website!